As
Christophe Courtois
cleverly noticed, the people in the film industry rarely bother to come up with an original poster for their movie. He organized similar posters in groups to show us the most common clichés in poster design.
Apparently, this is helpful when picking a film, because you can guess the movie content pretty accurately. Artsy drama? pick the one with the most letters written over it. A big staring eye gets you a sci-fi movie, and if you're in the mood for an action thriller, go for the blurred running silhouettes in either blue or orange. The last piece of advice – if you see Adam Sandler on it, just run and don't look back.
Powered by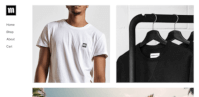 Create your own unique website with customizable templates.